Recent Event Reports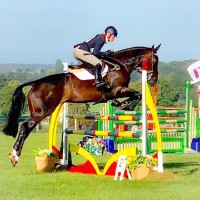 Gatcombe Park and a new career for Orange
Heidi was having her first outing since Millstreet at the last running of Gatcombe. She was a little jolly in the dressage - first time out for a while, but a super steady double clear around the intermediate in beautiful sunshine to finish 10th. A good prep run before the 7 year old championships at Osberton.
Orange had a fun morning at Henley Show crossing over to the dark side for a spin around the 130/140 class. A lovely clear round, 4th place and £100 prize money! Thank you Angie Thompson, we are off to buy more fluffy and sparkly kit!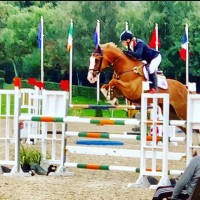 Millstreet Event Rider Masters
The Golden One not feeling in the dressage mood in the event rider masters at Millstreet but we still love him 🧡. He redeemed himself with a fantastic clear round showjumping and went home thinking he was a winner. We didn't run him xc not being in a competitive position.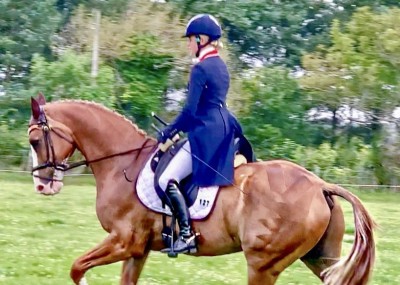 Burgham CCI-S 4*
The Golden One jumped a great double clear to finish 8th of 95 starters in the CCI4*-S at Burgham.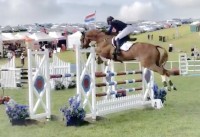 Barbury
Orange was having his first outing since Burnham Market in the big class at Barbury. He really enjoyed being back out jumping in the big arena but we didn't run xc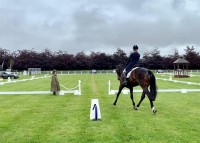 Tattersalls
Super proud of Heidi who behaved immaculately in the dressage at her first international for a lovely mistake free test in the biggest atmosphere she has experienced to date, but no XC for Princess who was not 100% herself in the xc warm up. She has never travelled a longer distance to compete before and is new to stay away shows so it's very important that she has a good experience. Disappointing as it was a great track as always and perfect ground, but her day will come and she will still have learned a lot from her trip. Safe back home now and enjoyed a day back out in her paddock 👸🦄
Whitfield and Aston
Super confidence building run for OJ at Whitfield with a fantastic dressage, improves show jumping and a great clear xc for 5th place.
Heidi had torrential rain for her visit to Aston le Walls. She produced a smart and workmanlike test and an amazing clear around a tough jumping track. A steering error meant 20 penalties and not prizes but another good run for her and she has no idea that she didn't win 😜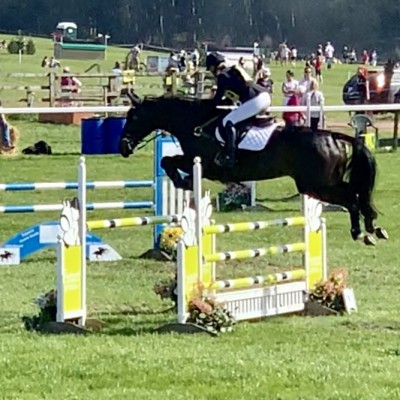 Kelsall Hill
Second intermediate outing for Heidi at Kelsall Hill in Cheshire. Another very solid test with lots more to come. The showjumping was again quite grown up and she jumped a lovely round, with one down when she didn't get her lead change before a downhill oxer. A beautiful clear xc put her in 3rd place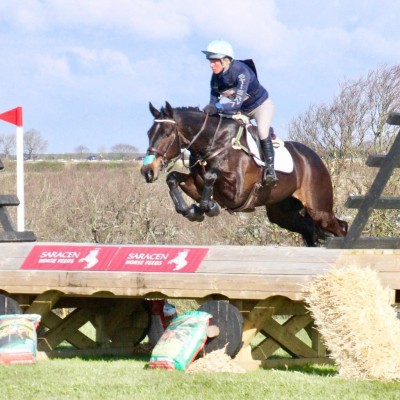 Burnham Market 
Amazing couple of days at Burnham Market with Heidi competing in her first intermediate and Orange in the advanced.
Heidi did as good a test as she is capable of at this stage. She is a big horse and still finding her balance at this level. The international feel showjumping ring was a whole new experience for her and she rose to the occasion jumping a great round with one unlucky rail. The cross country track was testing enough with two strong water complexes but she flew around with two time to finish 2nd. So thrilled with her and she will have learned a huge amount at her first stay away event.
Orange behaved immaculately in the dressage to lie near the top of a huge section on a 27. He had one very annoying and uncharacteristic rail down showjumping after disagreeing with Izzy about how to approach the treble. This cost him the win, but a great clear inside the time xc left him in 4th. Really pleased that he has come out so well and still enjoying his job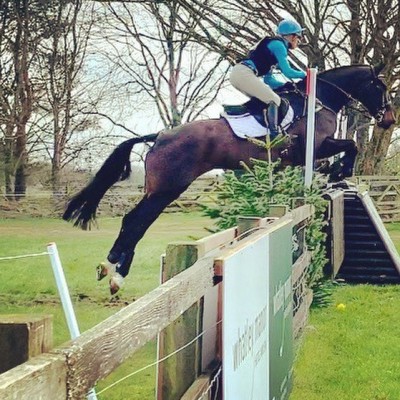 Gatcombe Park
Yet another fantastic run for Princess Heidi at Gatcombe Park and what a change to have brilliant sunshine!
A great dressage for a 26 and a super confident double clear inside the time for 3rd place in a very hot open novice section. She is now entered for her first intermediate!!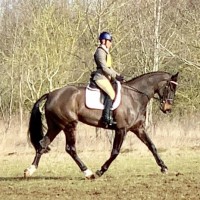 Oasby
Another great run for Heidi at a very windswept Oasby, where we experienced every extreme of weather. Heidi was very professional, posting a 30 dressage and a great double clear inside the time even with showjumps blowing down around her. She finished on the same score as the winner, Mr Townend, but was slightly faster and he was closest to the optimum time so she ended up 2nd. Princess has now upgraded to intermediate points ⭐️⭐️⭐️
Poor OJ will be having nightmares about his first novice run. Dressage in a hurricane with sideways rain didn't impress his dressage judge. He was green but tried hard showjumping in the worst of the wind for 2 down. He set off cross country and all was going well until the cheek piece of his running gag broke on the approach to the water leaving Izzy with no steering and no option but to pull up. New cheek piece too!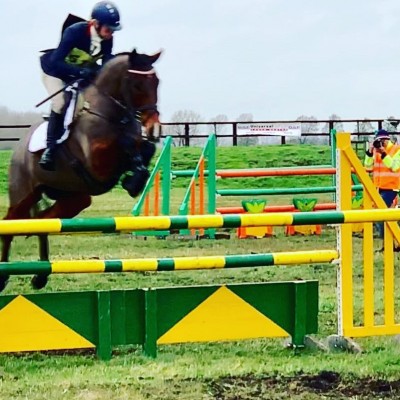 Isleham
Busy first weekend Eventing with horses at Aston and Isleham. OJ was on good form, posting a great test, with one down and a lovely confident clear xc. Baz was rather too pleased to be out and blotted his copybook after a good dressage and clear SJ. Princess Heidi was the star leading the dressage in her novice section and jumping a great double clear to win by 3 marks. ⭐️⭐️⭐️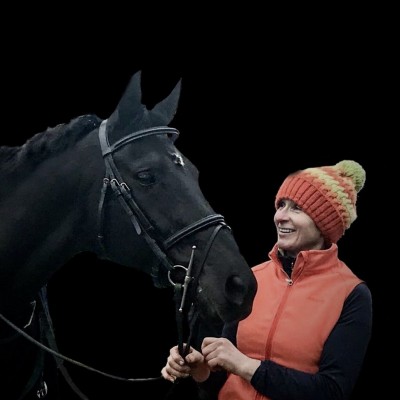 Bernie
We are devastated to have lost our brightest star, Director General last week following a catastrophic injury.
Bernie had a huge personality, a huge engine and a huge heart. He had only just begun to show the world his brilliance with fantastic results at Belton, Tattersalls and Blair Castle 3 star and had so much more to come. He had developed a great partnership with Izzy, who contained his exuberance and allowed his enormous talent to flourish.
Bernie we loved you beyond measure and we are so proud you and of all that you achieved. We are grateful to have been a part of your journey, even if it was far too short. Sleep well little friend xxx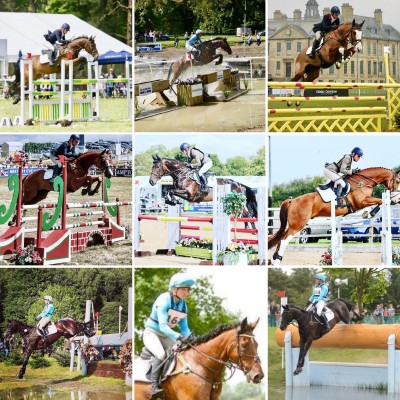 2018 Season
Despite a patchy sort of season weather wise, all the horses have produced some fantastic results in limited outings.
Baby OJ (Junior Z) has made a great start to his eventing career, showing huge promise in his BE100 runs.
Heidi (Hello Stranger) has quietly been a little legend being placed every time out, stepping up to Novice level and gaining 10 points in a few runs.
Zippi Jazzman and Stan (Star of Memory) were targeted solely at the ROR championships at The Magic Millions Festival of British Eventing at Gatcombe Park with Zippi jumping 3 brilliant clear rounds to finish 4th. Stan was placed in his prep run at Stratford Hills.
Baz (Impromptu) started his season with a win at Gatcombe, followed by placings at Bicton and Floors and was a whisker away from a great result in the CIC*** at Houghton. We are sure that his moment will come.
Orange (Perfect Stranger) has not had luck on his side this season but still had good placings at Belton and Jardy CIC***s. He is happy and well and will let us know what he wants to do next year at the age of 17.
It has been a period of getting to know new team member Bernie (Director General) and he has had a lot to cope with - new team, new jockey and on top of that a move up to 3 star level. He has shown some exceptional form with an 8th in his first CIC*** at Belton, 5th in the CIC*** at Tattersalls and finishing with an amazing 3rd in his first CCI*** at Blair Castle. We are super excited to see what he can achieve with more experience under his belt.
The two 4 year olds - throughbred Young Officer and Jason King by Don't Touch it M (Untouchable) out of a thoroughbred mare are both showing great promise and good attitudes in their early work and hopefully will begin competing next year. We also have two rising 3 year olds - the homebred Elmo by Grafenstolz ex 4 star mare Kings Fancy, and Harthill Flamenco by leading event sire Ramiro B ex Beca (full sister to Badminton winner Nereo as well as 4 star campaigners Armada, Fenicio and Oplitas) who will be ready to start their ridden careers in 2019.
Huge thank you to the whole Orange Team for making this possible, and special thankyou to generous sponsors - Woof Wear, for keeping our horses legs protected. Equipe for providing super smart fly bonnets and Dodson and Horrell for keep our horses feeling on top form and providing lovely jackets and saddle cloths. An even bigger thank you to all of Team Orange and Team Taylor.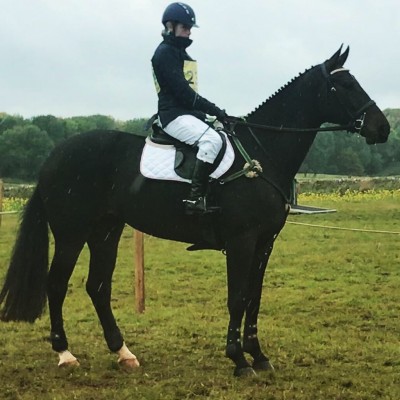 Calmsden
Very cold and wet day at Calmsden yesterday with Heidi and OJ. Heidi had the worst of the sideways rain but produced another super consistent performance to finish 5th. She has had a great season, being placed every time out and although ground conditions this year have meant she hasn't done as much as we had planned, she is a big horse and the extra time won't do her any harm.
OJ did a lovely test in a very competitive open 100 section against lots of experienced horses. He hasn't ever jumped off muddy ground before and was green showjumping but will have learned a lot from the experience and jumped a beautiful steady clear xc.
Poor Orange has picked up a minor injury which, although not serious, was enough to prevent him running at Little Downham. He will be fine in a week or two but unfortunately this rules out our trip to Pau. Really disappointing as everyone has worked really hard and he has been feeling on top form but there is always another competition and only one Orange